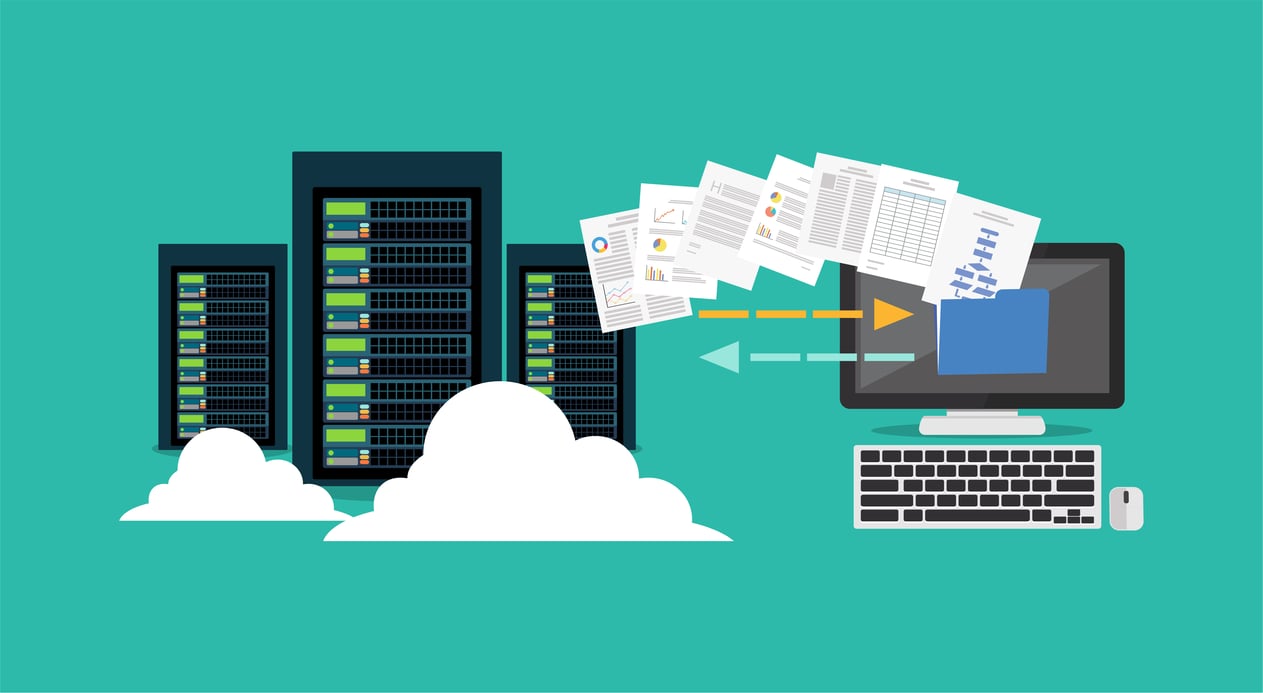 It's now assumed that every business is on the cloud, but that is a misconception. Many businesses still use on-premises (on-prem) servers, so the question is: when should you to consider migrating to the cloud?
For those not on the cloud, it can be confusing to know exactly what it actually is. Cloud migration is, essentially, moving all of your business processes into an area where you do not have to manage the computer environment, which is often managed by large organisations with thousands of dedicated servers.
This means you will no longer have large servers full of wires locked up somewhere in a back room, and no longer need to be in the office to access your business' accounts and software. In one word, cloud is flexibility.
The risks of not migrating to the cloud
Using on-prem servers to store all of your assets, data, software, and information comes at significant risk as technology becomes smarter and faster.
Whilst it's true that at this point in time, the cost of hosting a business on cloud is pricier than on-prem, the risks may outweigh any budget a business saves with on-prem servers.
Security
The biggest risk to businesses with on-prem systems is data security. With the Australian Cyber Security Centre receiving 144 reports of cybercrime each day, it's clear that cyberattacks are only going to continue to grow - and they can cost businesses thousands of dollars in profit and reputational damage. With more stringent and powerful security protocols, cloud servers are at much lower risk of a successful attack.
Lack of IT support
Many small businesses don't employ an internal IT support provider, and rely on setting up an appointment several days ahead. Unfortunately, if an on-prem server goes down and the IT provider isn't immediately available, it can shut the whole business down for days at a time. Cloud providers often have 24/7 call centres to help clients with IT concerns.
Physical damage
Many businesses store their servers in a dark room away from foot traffic. But this can often mean that servers aren't regularly inspected and acquire damage that isn't immediately noticed. It can cost a business several thousand dollars to replace equipment, not to mention the downtime to the business.
Losing the competitive edge
All of these risks combine to a loss in competitiveness. When a business can't be flexible or be reached at busy times, it creates an opportunity for a competitor to swoop in. Competitors utilising cloud may be faster and more reliable, thus luring customers away with better service.
When is the right time for businesses to migrate to the cloud?
Cloud migration isn't a one-size-fits-all approach, with many circumstances for businesses to consider when making the choice to migrate.
Your business is hiring
It's great news when your business is growing, but this means you'll need to continue expanding your IT infrastructure and training your employees to use it. The time and money spent on this may be better used on marketing or other processes when many new employees will already be familiar with cloud systems.
Your business is flourishing
More time and money is being spent on sales and marketing, leading to more use of your systems. But are these all connected and able to offer a single, easy view of your progress and results? It can be hard to ramp up business with incompatible systems that take time to manually scrape and draw data from, to see where your business is at.
Your work can be done at home
The current world situation has led to making people realise that some jobs may be done almost entirely from home. Unfortunately, businesses with on-prem servers may not be able to give their employees a choice to work from home. But there are solutions that will allow employees to work flexibly and stay safer, which will have long-term benefits for your business.
Your business has experienced any of the above risks
No business is perfect, and there comes a day that a mistake or unfortunate incident occurs. This may be the motivation your business needs to consider migrating to the cloud for safety, flexibility, or competitiveness.
Why an ERP may be the best solution when migrating to the cloud
With so many processes to look after, such as accounting, inventory, and customer service, a single, connected software may be the key for an easy migration to the cloud. This is called an enterprise resource planning (ERP) system, and can streamline processes and gain a greater insight into your business to help you drive profitable growth.
Scalability and a better view of your business
It's much easier for a business to grow when there are no barriers to IT infrastructure and you can see exactly how your business is tracking. Investing in software or systems that can grow with your business means that you'll be able to add functions or services at will, work faster, and be able to plan for the future.
Add power at will
Many wholesale and distribution businesses experience huge surges during certain points of the year, and will need to build up their IT capabilities to account for those surges. This can mean spending more money than necessary and only using 5% of your computing power for most of the year, leading to wasted expenses. With cloud systems, businesses can add power at will only when needed and save on costs the rest of the year.
Data safety
Hosting your business on cloud means that the risk of losing critical data due to an accidental click of a mouse is greatly reduced. Additionally, your data is much safer in the cloud with dedicated hosts and managers ensuring that it's regularly backed up and kept secure in multiple locations.
Cloud-based ERPs for small businesses
The team at Key Business Solutions has worked extensively with small- and medium-sized businesses to expand their IT capabilities in order to grow their business and profit margin. You can reach out to us to discuss the right solution for migrating your business to the cloud.