SAP Business One Cloud
Power business growth affordably
To make informed, confident management decisions, you need visibility into and control over your business – financials, sales, inventory, and more. With the SAP Business One Cloud solution, you get all the capabilities of the SAP Business One application with the simplicity of the cloud.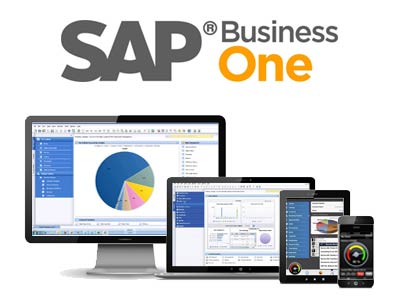 SAP Business One is already the backbone of more than 55,000 small businesses, midsize companies, and subsidiaries of larger enterprises worldwide. These organizations have been able to integrate, standardize, and streamline processes across business functions and can make decisions in real time based on a single, trusted source of information.
With SAP Business One Cloud, you get the comprehensive business management tools of SAP Business One with software-as-a-service delivery, offering a flexible alternative to deploying traditional, on-premise infrastructure and perpetual licenses.
For a simple subscription fee that covers software, service, and support, you can access the full functionality of SAP Business One with SAP Business One Cloud, hosted either by SAP or by one of our 700 partners.
The subscription is affordable, easy to understand, transparent, and predictable, helping you manage your cash flow. Payment terms are based on the number of users and the length of your contract, starting at 12 months, so you can tailor your service to fit the precise needs of your business. And the operational expenditure (OPEX) model helps you plan for and support the changing business environment more responsively.
Comprehensive, cloud-based functionality
SAP Business One Cloud delivers everything you need to manage your most critical business functions. It enables you to standardize and streamline processes, minimize errors and delays, and take confident, decisive action.
It covers functional areas including:
SAP Business One Cloud is built with flexibility in mind so that, as your needs evolve, you can adapt and extend the solution. Your SAP partner can help you switch on new functionality and industry-specific solution add-ons or add users to meet peak demand. This helps you react nimbly to new market opportunities and seasonal fluctuations, giving you a competitive edge. To help you make decisions faster than ever, SAP Business One Cloud runs on the SAP HANA platform, so you can be confident that your business decisions are made based on the latest information.
We also provide worldwide coverage, with 43 local country versions in 27 languages, so you won't outgrow your software solution as you expand your operations overseas.
See faster ROI with rapid deployment
SAP Business One lets you focus on your business, not your technology. Delivered as a service, it's designed for smooth, rapid deployment. That means you can get up and running in a matter of weeks or even days with minimal disruption to your operations and start seeing the business value of integrated management sooner.
SAP Business One Cloud can be hosted by SAP or by one of the 700 SAP partners in 150 countries that provide a managed solution. Your software is continuously updated, so you always have access to the very latest functionality and your data is physically and virtually protected at all times. With no need to maintain and support the software or manage the underlying infrastructure, total cost of ownership is reduced, and your IT staff can redirect their efforts towards value-added priorities.