Improve your business processes with an advanced cloud-based ERP system.
For years now, accounting software like Xero or Quickbooks has been the go-to solution for smaller businesses looking to organize their financials and necessary reporting requirements – and for a good reason. Both programs have a long record of reliability when it comes to out-of-the-box entry-level accounting solutions.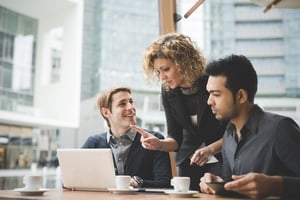 However, as companies begin to grow, the need arises for something more advanced than just an accounting system allowing organizations to monitor and manage other important aspects of their business. As a result, many companies have chosen to upgrade their basic accounting software to a more versatile enterprise resource planning (ERP) solution like SAP Business One Cloud.
What Is SAP Business One Cloud?
SAP Business One is a robust cloud-based ERP solution specifically designed to help small and medium-sized businesses scale their operations efficiently. Unlike entry-level accounting programs like Xero and Quickbooks, SAP Business One allows companies to manage multiple aspects of their business, including inventory management, sales, customer support, and operations all in one powerful solution.
---
---
Here are five benefits to consider when deciding if transitioning to SAP Business One Cloud is right for your business.
Benefit 1 - More Than Just an Accounting Software
ERP systems are the natural progression from entry-level accounting programs that most businesses choose to use when they are first established. While Xero and Quickbooks are a high starting point for new enterprises, once a company begins to scale, they will quickly realize that these programs are quite limited when it comes to expanding their overall functionality. The need for program add-ons and extensions can also add significantly to the monthly integration and operating costs of accounting software that barely meets the demands of your business.
SAP Business One Cloud is much more capable of growing with your company and is a "complete" enterprise solution that all of your departments can benefit from – not just accounting. With on-demand solutions, SAP Business One Cloud allows you to take advantage of transparent financial reporting, real-time inventory management, and advanced operational efficiency all for one fixed monthly price.
Benefit 2 - Helping Companies Make Better Informed Decisions
One of the growing concerns for smaller businesses is being able to track important aspects of their business while trying to maintain reporting accuracy throughout multiple spreadsheets. With SAP Business One Cloud, all of your business information lives in one place, providing better accuracy for reporting, analysis, and decision making.
This efficiency helps businesses grow faster as they're able to significantly reduce the amount of time they spend forecasting inventory requirements while monitoring cash flow. SAP Business One Cloud features self-service business intelligence and analytics that allow you to create your own KPIs and dashboards, giving you complete control over how you want to view your business information day-to-day.
Benefit 3 - Improved Process Workflow and Operational Efficiency
Most small businesses keep their purchasing and supply chain management functions separate from their accounting processes due to restrictions in their software. While this method may be sufficient during the early stages of business development, it's not a sustainable way to measure costs and maintain accurate inventory reporting.
Xero and Quickbooks were never designed to automate operational workflows while efficiently managing financials at the same time. However, SAP Business One Cloud integrates seamlessly into your existing infrastructure to give full transparency of your business day by day. This visibility paired with its automated process gives you complete control of your supply chain, allowing for accurate audits, real-time inventory, and better quality control.
Benefit 4 - Fully Integrated Sales and CRM Capabilities
Traditionally, sales management tools and CRM software are purchased separately from any accounting-related solution. While there is some benefit to having dedicated sales dashboards, KPIs, and other software-specific features, the lack of integration with your other business processes significantly decreases the effectiveness of these external sales programs. SAP Business One Cloud keeps everything managed under one hosted solution.
By housing sales quotations, order entry, and real-time inventory availability all in one place, SAP Business One Cloud becomes a powerful sales management tool with unparalleled reporting and accuracy. This functionality allows sales and marketing teams to track all business activities from the beginning of the sales pipeline to when leads are closed. The ERP system also features available service management tools to help monitor customer interactions and track important company response times.

Benefit 5 - Highly Customizable and Scalable Business Solution
The real power of SAP Business One Cloud lies in its versatility and ability to scale with the growing needs of your business. Out-of-the-box solutions like Quickbooks, while user-friendly, are only designed to improve the efficiency of your accounting processes and were never meant to be customized to your business management needs. These types of software solutions can prove to be inadequate when it comes to the number of active users who can access the system.

SAP Business One Cloud provides fast and flexible financial database management for unlimited users and role-specific logins, but its benefits don't stop there. Through a cloud-based solution, SAP Business One provides on-demand scalability, allowing real-time customized reporting, inventory and distribution management, automated forecasting tools, and much more. Cloud-based ERP systems are also protected in secure data centers, ensuring your business information remains safe at all times while providing you with seamless upgrades and always on accessibility.
If you are a small to medium-sized business and feel like your current accounting software is no longer sufficient, it may be time to consider an upgrade. Cloud-based ERP solutions like SAP Business One can be a real game changer when it comes to paving a sustainable growth path for your organization. Not only does SAP Business One provide a complete suite of business automation tools, but its cloud-based functionality ensures no extra hardware to manage, better utilization of your internal IT resources, and a fixed monthly price that covers all of your software needs.
When considering whether a cloud-based ERP solution is right for you, it's best to speak with industry specialists who can help you identify how SAP Business One can best serve your business. Key Business Solutions are Cloud ERP Solutions specialists with over 30 years of ERP implementation experience. Our broad base of experience supporting companies of all shapes and sizes makes him a valuable resource for businesses wishing to improve their current systems.
Talk to our team today and let us show you the benefits that SAP Business One Cloud can bring to your organization.