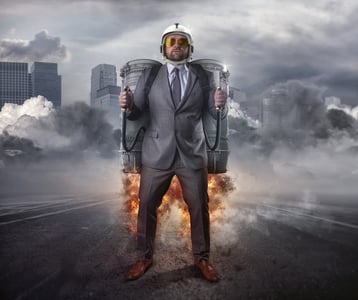 When it comes to deploying SAP Business One in a small business, many SAP Business One consultants will tell you that it can't be done - well, not in less than 30 days.
However, thanks to a number of innovations in the SAP Business One product and a focus on working with small businesses (in many cases that start with just 1 user) the team at Key Business Solutions have been able to master the process and now can share some of the secrets with you.
Limit Your Scope
By far and away, the biggest killer of deployment budgets when it comes to ERP projects is trying to achieve too much in too short a time and with SAP Business One that temptation is there as well.
Why?
SAP Business One's biggest and best kept secret is that the functionality in the solution has continued to grow and mature. Some of the most complex scenarios can be handled by the solution and with Version 9.3 now generally available, there's even more options you can activate.
So, if you are looking to get your system live in as short a time as possible, you'll need to decide what components to enable and what to leave to stage 2 or 3 - our consultants can help you decide based on your business needs and priorities, so give us a call on 02 9648 3383 and we'll be happy to discuss your project with you.
Choose a Cloud Deployment
Did you know that by choosing to deploy your SAP Business One system using the Cloud, you can start deploying within 15 minutes of placing your software order? By working with a leading Cloud Provider that focuses specifically on SAP Business One Cloud, we are able to provision your new system as quickly as you need - in fact the fastest we have done is 5 minutes.
That's the power of working in the Cloud...plus you don't have to purchase new hardware and deal with the complexities of managing a new system.
Our Cloud professionals will do all that for you - you just need to focus on using the software to run your business and its better foryour cash flow and bottom line as you pay by the month only for the users you need and we give you access to the software via a web browser or via a thin client application that runs on Windows, Mac or Linux.
You can even use a Raspberry Pi to access the system (a Raspberry Pi is an low cost device that hooks to an existing screen, keyboard and mouse and you are ready to go)
You can start with just 1 user and grow as much as you need - switching on additional users is just a matter of calling us and placing the order - we'll do the rest and send you their log on details post haste!
Take Advantage of our Web Based Training Sessions to learn at your own pace
With more than 60,000 companies around the world using SAP Business One, getting trained on the solution has become easier as many customers have asked for web based training delivered via self service videos and we have answered the call with a library of videos covering the basics of navigation through to the details of using each module and the individual processes within each module.
Use the SAP provided tools to speed the process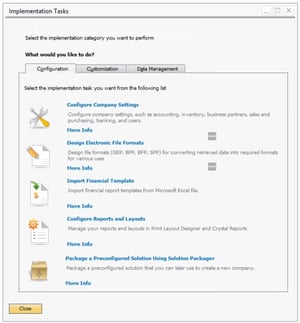 Built in to the SAP Business One application are a set of tools and wizards to help you configure the software to meet your needs and manage the entire process based on the best practices gained as a result of gathering feedback from thousands of users and consultants around the world on how to best configure the software.
Tools like the Implementation Centre, the Remote Support Platform and the Data Transfer Workbench will help you manage your project and transfer your master data and opening balances into SAP Business One.
So in conclusion, these are just a few of the ways you can deploy your new small business ERP solution in record time and with a minimum of stress. Of course, if your needs are more complex, our consulting team is always available to assist and with more than 15 years average experience they have the skills to help you to a successfu outcome.
If you would like to learn more about SAP Business One and you are based in Sydney, Brisbane, regional NSW or Queensland we would love to talk with you - call us on 02 9648 3383 or use our contact form and we'll get in touch.