6. Picking and Packing More info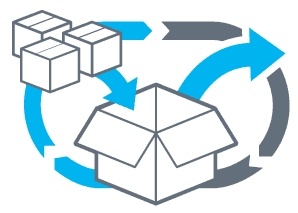 Pick and Pack in SAP Business One lets you automate the processing of sales orders, from the creation of pick lists up to packing items for shipment with delivery documents. click for more detailed info
The Pick and Pack process includes the following procedures:
Creating a pick list from open sales orders etc.

Picking items according to a pick list

Packing items for shipment

Creating delivery and invoice documents
7. Matching an alternate part when original is unavailable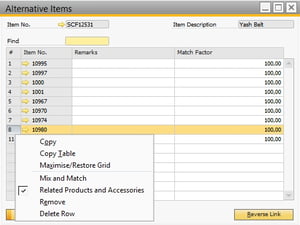 Use this window to define alternatives for items that you don't currently have in stock. You can build a list of alternative items and replace them for the originals. If you have a complex product offering then you can even create more alternate parts.
When creating any of your documents such as sales or purchase orders, a list will prompt you to select an alternative part when the original is not in stock. Click here for more detailed info
8. Payment wizard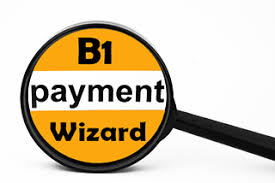 The payment wizard enables you to generate incoming and outgoing payments in batches as bank transfers, according to the selected open transactions and the selected payment methods.
When creating incoming or outgoing payments using the payment wizard, you can partially pay specific transactions, as you would do when working manually. Click for more detailed info
9. Procurement confirmation wizard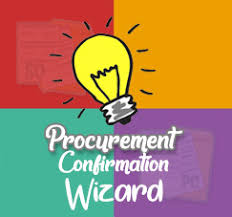 Procurement confirmation is a function that assists users in automatically creating one or several procurement documents, such as purchase quotations, purchase orders, or production orders, directly from one or several sales orders. Procurement documents created using this function can include part or all of the items from the sales order(s). However, you cannot use the procurement confirmation function to assign items to existing purchasing documents or as a tool to guarantee sales order fulfilment by reserving items in the warehouse, for example. Click for more detailed info
Use the wizard to do one of the following:
Consolidate/Combine multiple sales orders into one purchase order

Create a purchase order directly from a sales order

Consolidate multiple sales orders for production purposes

Create a production order directly from a sales order
10. Multiple price list functionality

SAP Business One lets you create different price lists for items, giving you the flexibility to offer your customers customised prices. This could be for volume discounts, loyalty pricing etc.
During the creation of sales and purchasing documents, SAP Business One derives item prices directly from a price list that is linked to your client/customer. This price list can be linked by default from your clients/customer group or from the business partner's payment terms, or can be selected manually in your client/customer master data. When you add a business transaction for client/customer, the price of the item is determined by the assigned price list.
SAP Business One provides 10 default price lists for you to use. You can use from any to all 10 of them. You can define new price lists and delete existing ones. You can also link different price lists to one another using multiplication factors. In each price list you can define up to three prices with different currencies for each item. Maintaining different price lists for items makes it possible to set special prices and quantity-dependent discounts in each one, thereby letting you offer your customers customised prices. Click here for more detailed info
If you have any questions feel free to give us a call, send us an email or just leave a comment in the section below.